Dover anti-immigrant demo wanted images released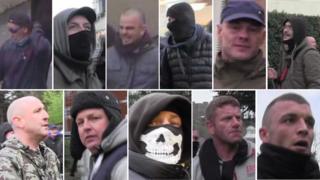 Images of eleven people wanted by police after anti-immigration demonstrators and counter-protesters clashed in Dover have been released.
Seven people were arrested after a demonstration and march to the Eastern Docks and a separate protest in the town centre on 30 January.
Ten people were also arrested after a disturbance at the nearby Maidstone services on the M20.
CCTV and social media footage is still being examined, Kent Police said.
Insp Bill Thornton said: "We appreciate some of those pictured have their faces obscured but we are hopeful they may still be recognisable."
He asked anyone who recognises any of the people in the photographs to contact Kent Police.
Bottles and bricks were thrown and smoke bombs were let off as far-right supporters and anti-fascist counter-protesters clashed.
Marchers from far-right groups carried banners including the North West National Front, neo-Nazi organisation Combat 18 and the Scottish Defence League.
Counter-demonstrators included Kent Anti-Racism Network, anti-fascist group Antifa and people with Socialist Worker placards.