Stephen Fry backs cancer girl's Valentine's Day kiss campaign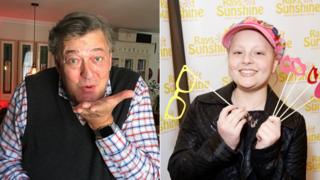 Celebrities including Stephen Fry have backed a 14-year-old cancer sufferer's Valentine's Day social media fundraising campaign.
Caitlyn Kydd, of Folkestone, Kent, is urging people to post photos of themselves blowing a kiss under the hashtag #Kisses4Wishes.
They are then asked to donate money to the Rays of Sunshine charity and nominate three people to do the same.
Singers Leona Lewis and Olly Murs have also taken part so far.
Caitlin, who has a rare form of bone cancer called Ewing's Sarcoma, said she decided to start the campaign after the charity granted her wish to meet pop band One Direction.
"Rays of Sunshine has literally brought some sunshine back into my life and now I would like to try and help other children like me to have their greatest wishes come true," she said.