New Channel Tunnel check-in 'to keep M20 moving'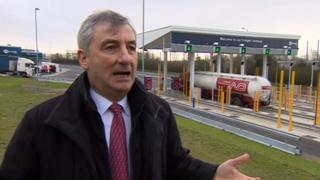 A five-lane check-in for lorries using the Channel Tunnel, designed to help prevent traffic building up on Kent's roads, has been officially opened.
The check-in plaza off junction 12 on the M20 also has two lanes for cars.
Eurotunnel said the new check-in increased the number of vehicles handled from 200 to 300 every hour.
The opening marked the 30th anniversary of the Treaty of Canterbury in which Britain and France agreed to build the tunnel, which opened in 1994.
Holding lanes
Eurotunnel said the new check-in would improve traffic flow on the M20, which is used to park lorries in Operation Stack when disruption prevents traffic crossing the English Channel.
Stack was used 32 times last summer during strikes by French ferry workers and migrant activity at Calais, causing gridlock on the county's roads and misery for travellers.
A lorry park north of the M20 at junction 11 has been put forward as part of the solution, but residents and the Campaign to Protect Rural England oppose it.
New holding lanes for traffic have also been introduced at Dover.
"I'm not sure we need a lorry park," said spokesman John Keefe.
"The whole principle we are all working to is keeping the traffic flowing.
"What we need is a management process and the infrastructure to ensure we can get traffic through to the ports and away."