Kent Police defend Dover anti-immigrant demo policing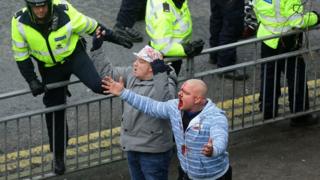 The policing of an anti-immigration march which led to violent clashes between rival groups has been defended by Kent Police's chief constable.
Seven people were arrested after a demonstration and march to the Eastern Docks and a separate protest in the town centre on Saturday.
Ten people were also arrested after a disturbance at the nearby Maidstone services on the M20.
Alan Pughsley said the policing operation "ran as well as it could do".
Charlie Elphicke, MP for Dover and Deal has criticised police for allowing two rival demonstrations to take place at the same time.
'Understand frustrations'
Mr Pughsley told BBC Radio Kent: "With any style of this operation it's normal practice to have a debrief, normal practice to learn lessons and normal practice to bring those lessons to any future demonstration.
"I understand the frustrations and disappointment of the people in Dover, of course I do, and I completely understand that as do the force.
"But we had to allow that march to take place and we policed it extremely well from the policing perspective."
Mr Pughsley added: "The debrief will give us the areas, as I've said, where we can improve and we'll always improve but I do not accept whatsoever in any way, shape or form that we let any of the county down."
Bottles and bricks were thrown and smoke bombs were let off as far-right supporters and anti-fascist counter-protesters clashed on Saturday.
Marchers from far-right groups carried banners including the North West National Front, neo-Nazi organisation Combat 18 and the Scottish Defence League.
Counter-demonstrators included Kent Anti-Racism Network, anti-fascist group Antifa and people with Socialist Worker placards.
Kent Police said a disturbance at the services, near junction eight of the M20 at about 10:50 GMT, was thought to be linked to the demonstrations.
One person was arrested on suspicion of criminal damage and a further nine were arrested on suspicion of violent disorder. All ten have been released on bail.