Faversham Assembly Rooms: Crews tackle historical building blaze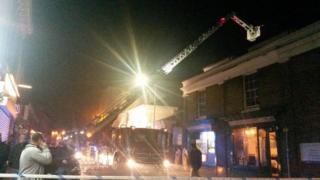 Firefighters spent several hours tackling a blaze at an historical building in east Kent.
The fire started in the roof of the Grade II-listed Assembly Rooms in Preston Street, Faversham, at about 21:00 GMT on Tuesday.
Six crews doused the flames at the height of the blaze at the music venue and theatre.
Kent Fire and Rescue Service said no-one is believed to have been in the 19th Century building at the time.
It is not yet known what caused the fire.
Faversham Buildings Preservation Trust, which owns the rooms, launched a six-year restoration plan in 2011.