Phone row murder: Patrick Murphy stabbed father 'out of fear'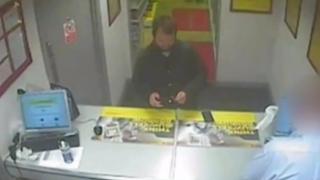 A man with learning difficulties killed his father because he was scared of him after suffering years of bullying, a court has heard.
Patrick Murphy, 30, admits he stabbed his father Joseph Murphy, 54, at their home in Hectorage Road, Tonbridge, in May, but denies murder.
Jurors were told Mr Murphy planned to kill himself in front of his family but lost control when his father shouted.
The court was also shown CCTV footage of him buying knives at a DIY store.
When he was asked whether he had "anything in mind to do" with the knives, the defendant replied: "Kill myself in front of my family.
"I'd had enough, I couldn't cope."
Mr Murphy told the court he stabbed his father when he jumped out of his chair at the family home and started shouting at him.
"I realised I had a knife behind my back. Mum started screaming, dad leapt out of his chair," he said.
"He was more the aggressor, egging me on.
"I was scared. Out of sheer madness I just lost control and stabbed him once.
"He scared me so much it was spur of the moment.
"I was feeling suicidal, on the brink of doing something nasty to myself. He scared me so much I ended up stabbing him."
Mr Murphy said his father used to discipline him with a fishing rod and call him the "lowest scum on earth" and other names.
"He's a very violent man when he's got drink in him. He would smash the place up when he was drunk."
Earlier the court was told Mr Murphy stormed out of the house after a row with his parents over a mobile phone charger.
He went to a store to exchange his phone for cash, bought three cans of strong lager and then purchased three knives at a supermarket.
Mr Murphy, who is also accused of wounding his brother, denies causing grievous bodily harm with intent, saying he cut Mark Murphy in self defence.
The trial continues.