Helping to send Lithuanian biker killed in Maidstone home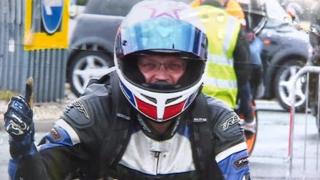 Friends of a motorcyclist who was killed in a crash in Maidstone are raising money so his body can be repatriated to his native Lithuania.
Osvaldas Rimsa, 27, known as Ozzy, died at the scene of the collision on Rocky Hill on 15 January.
His Yamaha R1 motorcycle crashed with a black Alfa Romeo Giuliett, Kent Police said.
Mr Rimsa's fellow bikers from Kent motorcycle groups are hoping to raise £3,000 for his family.
Neal Beck from the Maidstone Rideout Group, said: "Ozzy was always at the motorcycle cafes and involving himself in the local motorbike groups.
"A few groups in the area are trying to raise money for Ozzy's family to go towards his funeral costs or to repatriate him to his own country."
Bikers' community spirit
Mr Beck said they also wanted to raise money for the Kent, Surrey and Sussex Air Ambulance.
"It shows the community spirit of bikers. Bikers from all over the country are donating," he said.
Friend and fellow biker, Tony Chase, said the pair had been planning a ride out the day after Mr Rimsa was killed.
"When I heard about Ozzy it really struck home as a biker how tragic and serious it actually is and the impact it has."
"He was a guy who spoke to everyone and was everybody's friend - he would go out of his way to help people."