MPs oppose 'vital' Richborough Connection power link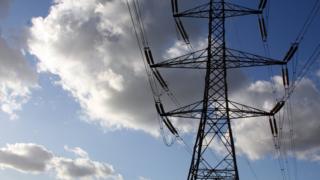 Three Kent MPs have objected to plans to erect 12 miles (20km) of electricity pylons from Richborough to Canterbury which will connect a cross-Channel power link to the National Grid.
Conservatives Julian Brazier, Sir Roger Gale and Craig Mackinlay describe them as a scar on the landscape which would "tower" over the Canterbury skyline.
The National Grid said they would help ensure the UK's power supply.
Project manager Steve Self said they followed a carefully designed route.
The connection will join the proposed Nemo Link - a new electricity link between the UK and Belgium - to National Grid's high-voltage network in Canterbury.
'Brutal assault'
The MPs said they recognised the need "to keep the lights on" but the scheme was neither desirable nor necessary.
They also said if it was necessary to import power there was a viable undersea route from Zeebrugge to Kingsnorth in north Kent that could be used.
National Grid has proposed "standard lattice pylons" which are about 164ft (50m) high for most of the route and lower height pylons, about 114ft (35m) high, for Ash Levels to reduce impacts on wildlife.
Mr Self said National Grid had also worked with South East Water to ensure the pylons and reservoir schemes at Broad Oak could both go ahead.
South East Water said it remained concerned the pylons scheme crossed the site of the planned reservoir, which was needed to ensure water supplies.
Dr Hilary Newport from environmental group CPRE Kent said the scheme was a "brutal assault on the landscape" and called for the undersea route to Kingsnorth to be considered.
The planning inspectorate is currently looking at National Grid's plans.