Operation Stack: Lorry park 'not solution' to disruption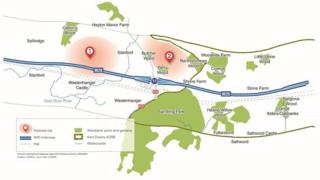 A permanent lorry park for thousands of vehicles is not the solution to the disruption caused by Operation Stack, according to a campaign group.
Two potential sites, both north of the M20 at junction 11, were unveiled on 11 December by Highways England.
The Campaign to Protect Rural England (CPRE) in Kent wants a network of "dispersed, serviced truck stops" away from the Channel corridor.
A public consultation on the lorry park proposals runs until 25 January.
'Smart queuing'
CPRE Kent director Hilary Newport said he did not think a "huge lorry park, which may only be called into use for a few days - if at all - in any year" was the answer.
"A better solution would offer real resilience to the logistics industry now and into the future and help not just Kent but the whole country cope with disruption, strikes or emergency - such as extreme weather - fire or security threats."
As well as a network of truck stops, the group wants to see hauliers encouraged to use alternative ports in Essex, Kent, Sussex and Hampshire, a "smart queuing system" using GPS technology to allow trucks to be called forward without having to be near the start of the queue and the expansion of the existing lorry facility south of the M20.
Operation Stack - which involves parking lorries on the M20 during cross-Channel disruption and instigating road diversions - was used 32 times last summer, following strikes by French ferry workers and migrant activity in Euro Tunnel.
Chancellor George Osborne has allocated £250m to pay for a lorry park.
Highways England believes a permanent site could cut the number of times the M20 is shut when Channel crossings are disrupted and improve facilities for lorries.
The lorry park plans have been backed by the leader of Shepway District Council but are opposed by residents in the Stanford, which is near the two potential locations.