Task force to speed up Folkestone to Dover railway repair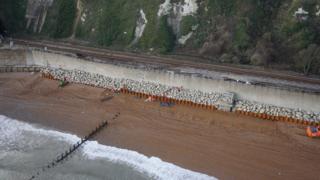 A task force including three MPs has been set up to oversee work to rebuild a collapsed railway line.
The line between Folkestone and Dover was closed after storms damaged the sea wall at Shakespeare Beach on 24 December, leading to huge disruption.
Southeastern, Network Rail and Dover and Kent councils are part of the task force but it has no date for when the line will reopen.
Network Rail said repairing the line was a major engineering challenge.
Dover and Deal MP Charlie Elphicke will lead the task force, with Folkestone and Hythe MP Damian Collins and South Thanet MP Craig McKinley also on board.
It will share information and tackle any administrative or bureaucratic hurdles affecting the work.
More than 9,000 tonnes of rock has already been placed on the beach to reinforce the sea wall and another 9,000 tonnes is expected to arrive in the next week.
Design teams have been working on a long-term solution to the damage.
"We realise that passengers in Dover, Deal, Folkestone and Sandwich are keen to know when we will be able to reopen the line and we are working very hard to get them an answer," said Network Rail route managing director Alasdair Coates.
"This is a vulnerable stretch of railway and we have to find the right design to last many more years into the future."
Mr Elphicke said the line closure had made it tough for commuters and rail users.
"It's important the line is repaired as soon as possible," he said.