Community paramedics in east Kent ease pressure on NHS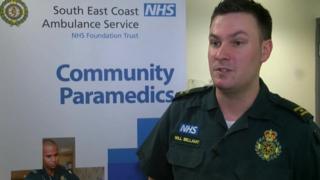 A trial aimed at helping ambulance crews cope with increasing demand has been made permanent.
The community paramedic programme has been piloted in the Whitstable area for three months, and has seen many patients treated in their own homes.
The paramedics are responsible for answering all emergency calls but also support GP practices in their area.
The aim is for quicker response times and to reduce the pressure on call centres and hospital admissions.
Last year the South East Coast Ambulance Service (Secamb) made headlines when it dodged national response targets by reassessing emergency calls.
In a pilot project, it delayed sending help for certain 111 calls and transferred them to the 999 system, thus gaining an additional 10 minutes to respond.
Secamb hopes to eventually introduce community paramedics across Kent, Sussex and Surrey.
The paramedics are able to take a full medical history of the patient, and can assess whether they can be treated at home, or need their GP to visit.
Will Bellamy, operating manager for east Kent said: "We're moving from a traditional ambulance service responding to 999 calls to an ambulance service that provides mobile healthcare.
"The upside for us is that we're not having to convey as many patients to hospital, but [can] also treat patients in their own home, which is obviously the goal for all healthcare providers, including the ambulance service."