Jonathon Cudworth jailed for 'callous' wife killing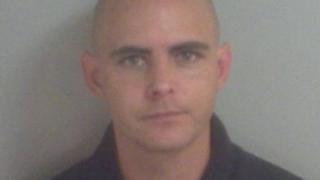 A man has been jailed for 15 years for stabbing his wife with a kitchen knife in a "brutal, callous killing".
Jonathon Cudworth, 36, of Northbourne, near Deal in Kent, was cleared of murder but found guilty of manslaughter at Canterbury Crown Court.
During the trial, jurors heard Cudworth killed Polish-born Mariola, known as Mijka, because he feared she was going to leave him for another man.
Judge Adele Williams told Cudworth it was a "brutal, callous killing".
When Cudworth gave evidence, he told jurors the couple had argued after she was late home from work, he grabbed her by the neck to stop her pushing him and then picked up a knife and stabbed her.
He said the argument in April last year started because she said she was having an affair and wanted to leave him.
The court was told Cudworth hid the body of his 36-year-old wife in a field in nearby Eastry and reported her missing.
Her body was found on 12 May.
After the hearing, Det Insp Richard Vickery said the killing was "a senseless act on an innocent woman".
He said the families involved had been through an incredibly emotional ordeal because of Cudworth's actions, not least because he refused to reveal where he had disposed of her body.
Police said when Cudworth reported his wife missing on 30 April, he said she had stormed out after an argument.
But when officers searched the home and the family car, they found bloodstains with his wife's DNA.
Cudworth was charged on 7 May but did not reveal where the body was until he told a relative four days later.
Post-mortem examinations showed Mrs Cudworth died from blood loss following four stab wounds on 29 April.
Mrs Cudworth's sister Anita Bazela said the family felt "emptiness" after their loss which would never go away.
Her other sister Agata Rychlicka said it had caused them great pain knowing she died in such a brutal and violent way but they believed she was with God and no longer suffering.