Dartford crossing changes 'urgently needed'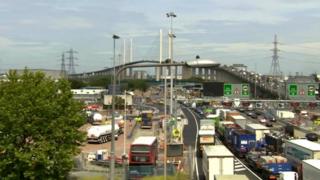 Urgent changes to the Dartford crossing have been called for in parliament by Kent MP Gareth Johnson.
Dartford's MP told the Commons the Dart Charge payment system at the crossing was "riddled with administrative errors and incompetence".
Transport minister Andrew Jones said talks were held last year with Sanef, the firm running the payment system, and he was monitoring complaint levels.
Highways England, contractor for Sanef, said there was more work to do.
Mr Johnson has made repeated calls for action to tackle traffic jams, payment issues and slow journeys at Dartford.
He said: "Hardly a day goes by when I'm not approached by a motorist who has been wrongly or unfairly given a penalty notice."
Mr Jones said Sanef's performance was a concern and a meeting had been held.
He said: "The complaint levels are at the lowest levels to date, but I will continue to monitor that."
A spokesman for Highways England said: "Dart Charge continues to bring the benefits of relieving congestion and speeding up journeys at the Dartford crossing.
"We know that there is more to do and will continue to work with our partners to ensure that all the approaches to the tunnels in Kent are working as well as they possibly can."
The new system, which saw barriers removed and motorists charged through number plate recognition cameras, came into force in November 2014.
Sanef said it had nothing to add to Highways England's comments.