HMP Rochester 'being destabilised' by inmates' legal highs use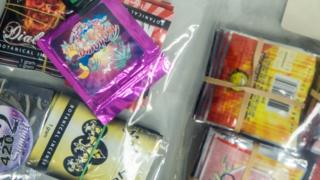 Use of legal highs by inmates has been allowed to destabilise a Kent prison because complacent staff have not been tackling the problem, inspectors said.
A report criticised officers at HMP Rochester, after highlighting how 57% of prisoners said they found it easy to get hold of drugs.
Nick Hardwick, chief inspector, said the issue needed "urgent attention".
The National Offender Management Service admitted the prison faced a "significant challenge".
'Progress been made'
Mr Hardwick said: "There was much evidence to suggest that the availability of NPS (new psychoactive substances) was having a significant destabilising effect.
"And yet the prison's response lacked coordination and too many staff seemed complacent of the issue and its impact.
"Confronting this drug problem demanded urgent attention."
Rochester is a medium-sized category C training prison in Kent for 743 adult and young adult male prisoners
Michael Spurr, chief executive of the National Offender Management Service, said: "Staff are determined to tackle this and have already put in place additional security measures, as well as increasing awareness about the dangers and extending support to overcome substance misuse issues.
"Since this inspection, progress has also been made to improve safety and purposeful activity with more prisoners engaged in high-quality work and training opportunities.
"We will use the recommendations in this report to drive further improvements over the coming months."