Kent County Council 3.99% council tax rise 'essential'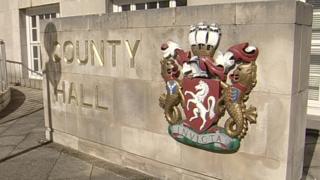 A council tax rise of nearly 4% is "essential" as Kent County Council (KCC) tries to find £126m, council leader Paul Carter has said.
He said growing demand for services would cost an extra £80m but KCC also faced reduced government funds of £46m.
The Conservative council's proposed increase includes a general 1.99% rise and 2% under the social care precept.
The Labour group said it would need to ensure social care funds would be used in the right way to agree to the plan.
Labour group leader Councillor Gordon Cowan said the government had said the social care precept would be ring-fenced.
But he said: "We want to see paperwork for where every penny of that two per cent has gone."
Mr Carter said the council's most significant pressures included an extra £31m for adult social care.
He said a further £12m was needed for waste disposal and special education needs transport and KCC also had an extra £13m costs as an employer.
An efficiency drive at KCC would also continue with 150 job losses next year on top of 2,000 made over the past five years, he added.
"Without the extra money that a council tax increase will deliver, sustaining frontline services would be impossible," he said.
"I hope people will see that the extra council tax we're proposing is essential."
KCC will vote on the proposals next month.