Chatham wassailing revival attracts sell-out crowd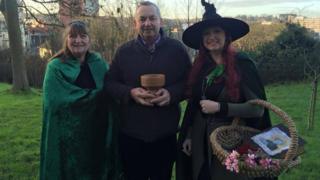 A revival of the ancient custom of wassailing is proving so popular that an event in Kent has sold out.
The ancient ceremony is said to prepare orchards for the new year, blessing trees with a good crop and frightening away evil spirits.
The ritual at the community orchard at Ford Amherst in Chatham is being combined with folk music and another tradition, a Kentish mummers play.
The fort held its first wassail last year, attended by 150 people.
A similar number are expected later for this year's celebration.
"It's reassuring to know that there is such an appetite for these authentic events," said Fort Amherst trustee Keith Gulvin.
"Wassailing has its roots in Kent back in the 5th Century when the first Saxon Jutes brought a celebratory toast which was called the wassail - which means good health.
"The revival movement started in the 60s and 70s and it's quite well established now in other parts of the country.
"But in Kent it has been slower so we decided last year to restart one here."
A wassail cup of cider will be blessed, then poured round the apple trees before the fort's cannon and muskets are fired to frighten away evil spirits.
Later, the mummers play will be performed in tunnels underneath Fort Amherst, built in the 1700s to protect Chatham Dockyard.
---
What is wassailing?
The origin of the historic ritual to ensure a good harvest of fruit is unknown, but it has connections with Anglo-Saxon traditions
It is popular in cider-producing areas of England, particularly the West Country
Wassail comes from the Anglo-Saxon phrase "waes hael"
Originally, the wassail was a drink made with mulled ale and passed round in the communal wassail cup
Wassailing was held on "Old Twelfth Night" on 17 January but nowadays is often held earlier in line with the Gregorian calendar where Twelfth Night falls on 6 January
---