Tonbridge free school announced by Cameron delayed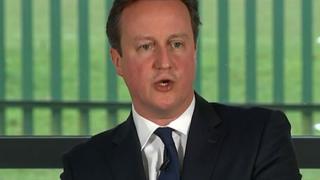 The opening of a free school announced by David Cameron has been delayed because it has been unable to buy a permanent site.
Bishop Chavasse Primary Free School in Tonbridge, Kent was among 49 announced by the prime minister in March.
It was to have opened in September 2016 but has been delayed for a year.
Its sponsor, Bennett Memorial Diocesan School, said it was for the best in the long term not to open the new school on a temporary site.
Finalise purchase
Bishop Chavasse will take up to 60 children each year and be run with a Church of England ethos.
It said in November it was close to buying a site in south Tonbridge.
Now it says it has not yet been able to finalise the purchase and the school will not be able to open this year, as planned.
"Although we realise this will be disappointing for many of the school's supporters, we believe the decision will be for the best in the long term," said Bennett Memorial executive head Ian Bauckham.
"It will mean the new school will aim to open on its permanent site and in its brand new building, rather than opening on a temporary site in its first year.
"We hope that very soon now we will be able to announce where that is and that soon after that construction will begin."