Erith GP killed in van collision named as Wilson Fok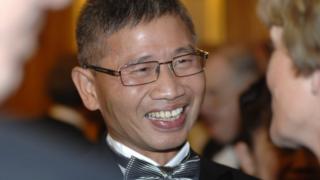 A man who was struck and killed by a van on New Year's Eve has been named as 59-year-old Kent GP, Dr Wilson Fok.
Dr Fok and his wife were walking along Heath Lane, Dartford, shortly before 20:00 GMT when they were both struck by a Mercedes Vito van, Kent Police said.
The Erith GP died at the scene but his wife was not seriously injured.
Paying tribute, his wife and children said: "Our house was always full of love and laughter - especially with his terrible 'dad jokes'."
Dr Fok had been a GP in Erith for 30 years, his family said.
"He was a loving husband, wonderful father, loyal friend and well respected GP.
"He was an excellent doctor, a true gentleman, very courteous, helpful and above all showed great care for the well-being of his patients."
The driver of the van was not injured and no arrests have been made, a Kent Police spokesman said.