Channel Tunnel walk accused granted UK asylum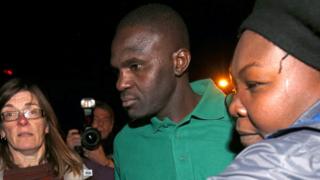 A man accused of walking the length of the Channel Tunnel has been granted asylum in the UK, a court has heard.
Abdul Rahman Haroun, 40, is alleged to have walked most of the 31 miles from Calais to Folkestone before he was found inside the tunnel on 4 August.
Caseworker Sadie Castle told Canterbury Crown Court Sudanese national Mr Haroun was granted asylum on Christmas Eve.
Prosecutors said they were considering whether to drop charges in light of the decision.
Mr Haroun was released on bail until 18 January.
He is charged with causing an obstruction to an engine or carriage using the railway under the Malicious Damage Act 1861.
After the hearing, Eurotunnel spokesman John Keefe said the decision to grant asylum was disappointing.
He said: "It sends out a message to migrants - come to the coast and try and get into the UK, there's still a chance you could get asylum in the UK."
Mr Keefe also claimed the decision was counter-productive after work carried out last year to put up extra fences around the Channel Tunnel terminal in France.