Traffic wardens abused outside Gravesham schools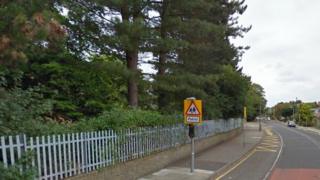 Traffic wardens working outside schools say they have been "pairing up" with police because of abuse from parents.
Parking enforcement officers in Gravesham, Kent, said they face regular "intimidation and aggression" during the school run.
The borough council said wardens have begun patrolling alongside police community support officers (PCSOs) "to avoid any trouble".
Parking outside schools puts children in danger, it said.
Traffic warden Michael Edwards said: "We are with the PCSOs - we pair up because the parents here can be a bit aggressive.
"It's all about child safety. If you've got cars blocking main gates and the children cannot be seen when they're crossing the road there is a risk of them being hit outside the school."
Parents said they needed somewhere to stop in order to drop off and pick up their children at school.
But Gravesham Borough Council spokesman Graham Cole said: "Those who do park there see it as some kind of right and [think] the rules don't apply for them.
"Our officers usually go in pairs and with police support officers to avoid any trouble," he said.