Rail line reopening date unknown after Dover sea wall damage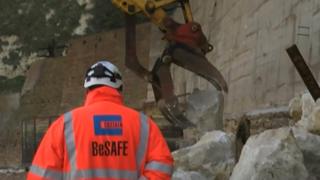 Network Rail has refused to reveal when a major south east coastal rail line will reopen after cracks appeared in a supporting sea wall.
Services between Folkestone and Dover Priory were suspended on 24 December.
Emergency repair work has begun with boulders being delivered to stop any further damage.
However, when questioned, Network Rail's south east managing director Alasdair Coates would not give an estimate on when the line would reopen.
He told BBC South East Today: "I think what we need to do is make sure we have something that fits for purpose, that we are confident in and we're going to get the solution we need."
David Statham, managing director of rail company Southeastern, said rail replacement services had been made available for passengers.
However, he said revised timetables would be published in the next couple of days.