Rochester Airport plans considered again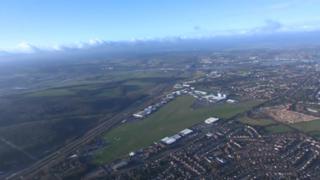 Plans for a paved runway at a Kent airport are to be looked at again in order to avoid the development being held up in the courts.
Medway Council originally approved the proposals, which also include a 10-hectare business park, in February.
A judicial review was to have been held in November, but was postponed.
Now the council's planning committee will look again at the plans at a special meeting to be held in February next year.
The council says re-evaluating the plans, which were opposed by 700 objectors, will avoid further delays.
Enterprise Zone
Land for the science and technology park will be freed up by decommissioning a grass runway within the airport's grounds.
There will also be a new control tower and three hangars.
The airport is in part of an area granted Enterprise Zone status in Chancellor George Osborne's autumn statement.
North Kent Innovation Zone (NKIZ) also includes the Kent medical campus in Maidstone and Ebbsfleet Garden City.
The council said the airport site would create 1,000 jobs.
"The planning committee will be asked to look at the application again, considering all the evidence that is before them," said council leader Alan Jarrett.
"It is vital that, given the recent boost by the chancellor with Enterprise Zone status, we start to move on this project, if it is approved.
"We want Rochester Airport to be a place where companies want to come and create local jobs for local people."