Patient transport in Kent and Medway to be run by G4S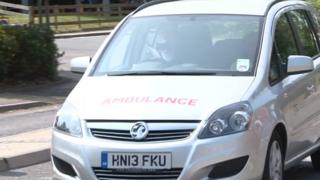 A £90m contract to provide non-urgent transport for NHS patients in Kent has been handed to a new supplier.
G4S, which already provides the service in London, Surrey and Essex, will replace current provider NSL, which was criticised last year by inspectors.
NSL withdrew its own bid to run the service when its existing contract runs out in June next year.
Drivers and other staff will be invited to transfer to G4S, whose new contract runs for six years.
The patient transport service for Kent and Medway provides free travel for people whose medical condition prevents them getting to and from hospital by other means, such as renal patients on dialysis.
West Kent Clinical Commissioning Group (CCG) said G4S came top on quality out of six bidders.
Chief officer Ian Ayres said quality counted for 65% of its evaluation, with cost accounting for 35% of the final score.
NSL Kent has provided the service since July 2013.
A Care Quality Commission (CQC) report published in July 2014 found it did not meet standards in three areas.
Inspectors found fewer ambulances were available after 18:00 BST, despite the fact it was meant to be a 24-hour service, causing problems for patients travelling overnight.