Operation Stack: Stanford villagers to fight lorry park plan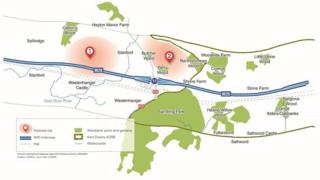 Residents have vowed to fight plans to build a lorry park near their village which aims to deal with the disruption caused in Kent by Operation Stack.
Two potential sites, both north of the M20 at junction 11, near Stanford and Westenhanger, were unveiled on 11 December by Highways England.
Villagers in Stanford voted to try and buy land at one site to delay the plans, at a parish council meeting.
A public consultation on the lorry park proposals runs until 25 January.
Operation Stack - which involves parking lorries on the M20 during cross-Channel disruption - was used 32 times last summer, following strikes by French ferry workers, migrant activity disrupting cross-Channel rail operations and causing congestion across the Kent road network.
'Delay the work'
Matthew Webb, chair of Stanford Parish Council said the village was concerned about the impact of "a 4000 lorry park on its doorstep" and 70 people at the meeting "voted unanimously to offer to buy the farmland from the owner if he was willing to sell".
"If it forces it down the compulsory purchase [route] it is a lengthy process and they cannot shortcut that and it would delay the work."
"We welcome an effective solution to Operation Stack but this scheme isn't it," he added.
"This proposed lorry park is merely addressing a symptom of Operation Stack, not its underlying causes, which are the industrial action by French ferry workers and migrant incursions into the Channel Tunnel in France which are impacting us in the UK.
"We need to look at sensible sites for a distributed network of smaller lorry parks along the routes of the M2/A2 corridor as well as M26.
Chancellor George Osborne has allocated £250m to pay for a lorry park.
Highways England said a permanent site could "help significantly reduce the likelihood of having to close the M20 in the future" and improve facilities for lorries across the county in general.
Its plans were welcomed by the leader of Shepway District Council, David Monk, who said Operation Stack had "caused misery" for more than 20 years.
The BBC has not been able to contact the owner of the farmland Stanford villagers hope to buy.