Ranscombe Farm nature reserve erects memorial boards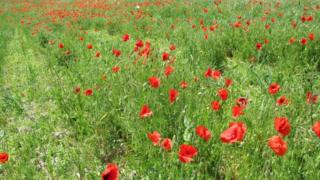 Memorial boards are helping to raise funds to aid essential conservation work at a nature reserve in Kent.
The installations at Ranscombe Farm Reserve, which is between Strood and Cobham, will enable visitors to commemorate the lives of loved ones.
The first of two boards, called Your Place in the Poppies, is situated in Longhoes field overlooking the site of some of the UK's rarest wild poppies.
A second board will be placed in a more secluded spot, in woods on the reserve.
People will be invited to install a plaque in memory of a loved one in return for a donation.
Ranscombe Farm Reserve is renowned as an important site for rare wildflowers.
One of Britain's rarest flowers, meadow clary, was first found in the UK at Ranscombe in 1699, and survives in the same spot.