Escaped Howletts monkey who fled in-fighting is found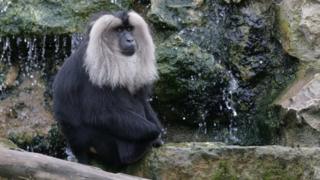 A monkey that escaped from an animal park in Kent following fighting within his family group has been found.
Tamil, a lion-tailed macaque, left his enclosure at Howletts on Wednesday.
A spokesman for The Aspinall Foundation, which runs the park, said Tamil was discovered in woodland close to the boundary on Thursday evening.
Animal director Adrian Harland said it was common for young male lion-tailed macaques of a similar age to fight as they became more dominant.
In a statement, The Aspinall Foundation said: "We left several snacks of fruit and nuts to entice him closer to the park boundaries.
"The keeping and veterinary teams continued to monitor Tamil's whereabouts and were able to successfully sedate him in order to bring him home safely for Christmas."
The park plans to move some of its lion-tailed macaques to another enclosure "to reduce family tensions".