Pent Valley School may close over pupil numbers fall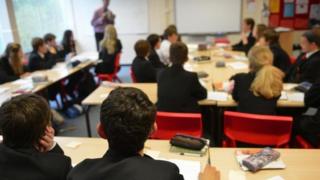 Parents have been warned their children's "future education" could be damaged if a school which is facing closure remains open.
Kent County Council wants to close Pent Valley School because the number of parents choosing it has declined.
Pupils currently in years 7 to 9 would be transferred to Folkestone Academy or Brockhill Park under the plans.
Patrick Leeson, the council's director of education, said it would be "unfair" for pupils to continue at the school.
There are currently 43 pupils in year 7, while the school has places for 180 pupils students in each year group.
In the school's last Ofsted inspection report it was rated as "good".
Education 'damaged'
However, the council said the school's academic performance had "plummeted", with 15% of students achieving five GCSEs graded A*to C, including English and maths.
Mr Leeson said this was below the results achieved in any year since 2004, and below the government's target of 40%.
He added: "We've reached the point now where the number of parents choosing the school has declined to such a low number that it simply won't be viable.
"It's already in budget difficulties and struggling with its performance.
"It's important we try to persuade parents that the future education of their children at this school will be damaged because of the reducing level of resource the school will have."
In a letter to parents the chairman of governors at the school Michael Chisnall said they were "shocked" by the announcement.
"It is with heavy hearts and the greatest reluctance that we understand the reasons behind the local authority's decision to consult on closure," he said.
An online petition has been launched by a pupil at the school, which so far has more than 500 signatures.
A final decision will be made in 2016.