Michael Tierney death: Man guilty of Chatham murder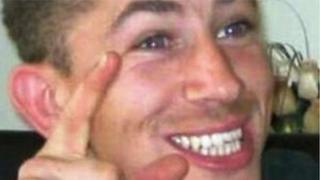 A man has been found guilty of murdering a man struck with a pick axe in a street in Chatham.
Michael Tierney, 33, was found in Haig Avenue in June and died two days later.
George French, 39, from Ansell Avenue in Chatham, was found guilty of murder at Canterbury Crown Court.
William Fleming, 27, from White Road, Chatham, was found guilty of manslaughter and Kelly Anne Wicker, 28, of Haig Avenue, had earlier admitted perverting the course of justice.
All three will be sentenced on Friday.
'Kicked and stamped'
Mr Tierney was found with serious head wounds on 16 June and died in hospital two days later.
Kent Police said Mr Tierney had walked into a private alleyway near Glencoe Road holding a pick axe after French had caused damage to a gate.
A police spokesman said: "During a confrontation between the two men, French's cousin, Fleming, was passing and also started to attack Mr Tierney."
He said: "Together, the two men overpowered the victim with French taking hold of the pick axe and striking him several times.
"Fleming kicked and stamped on their victim multiple times after he had fallen to the ground and laid defencelessly."
The pair then left the area leaving Mr Tierney lying face down on the ground and not moving, he said.
French handed himself into the police the following day, and Fleming did the same on the 18 June.
The spokesman said: "Wicker cleaned the pick axe handle, as well as French and Fleming's clothing in a bid to destroy the evidence."
Fleming was found not guilty of murder, but guilty of manslaughter by the jury at Canterbury Crown Court. Wicker had pleaded guilty on 10 November to perverting the course of justice.