Margate school for deaf children may close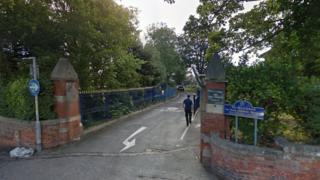 The country's oldest specialist school for deaf children could close at the end of the year after the trust which runs it went into administration.
More than 100 job losses have already been announced at The Royal School for Deaf Children in Margate, Kent, which was established in 1792.
A further 380 jobs could go if substantial funding cannot be found.
About 110 young people attend the schools operated by the John Townsend Trust, administrators said.
The threat of closure also affects Westgate College which was established in 1978 as the post-16 department of The Royal School.
Craig Mackinlay, Conservative MP for South Thanet said this year the school was forecasting a deficit of £650,000.
"I think a lot of this is driven by local authorities choosing to keep some of their pupils within their local authority's schools which in itself can be a good thing for those pupils.
"It's the oldest deaf school in the country and has a fantastic reputation."
'Lifeline for parents'
Brian Gale, from the National Deaf Children's Society, said: "Many parents are just devastated by the news.
"A lot of the children have additional needs such as autism or mental health difficulties, and for these parents the school has been a lifeline."
The Royal School for Deaf Children is a non-maintained day and special school with a registered children's home for young people who are deaf or have a hearing impairment.
Pupils range from the age of four to 19-years old.
Westgate College is now is a non-maintained day and residential college for students aged between 19 and 22-years old.
Mr Mackinlay said calling in administrators could save the school.
"Some good might come from this," he said.