Star Wars memorabilia exhibition opens in Canterbury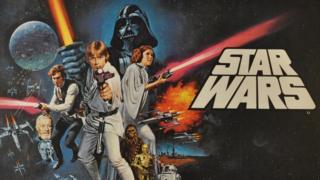 A collection of Star Wars memorabilia and toys has gone on show at a museum in Kent.
The exhibition, called May The Toys Be With You, opened earlier at The Beaney art museum and library, in Canterbury.
It is the first time the toys and posters, owned by collector Matt Fox, has been put on public display.
It has been timed to coincide with the release of the new Star Wars film, Episode VII - The Force Awakens.
Mr Fox said: "I had always wanted to share it with the public - they say that collecting is a sickness and sharing it is the only cure, so that's what I'm doing."
"There's a lot of value in Star Wars. The highest single price for a figure was achieved in January this year in Britain, where a Boba Fett figure... sold for £18,000.
"That same figure retailed for £1.50 back in 1980 in British toy shops so it would've been a good investment to make."
From 1977 to 1985, an estimated 300 million action figures were sold around the world, the museum said.
Toys including X-Wing Fighters, lightsabers and Han Solo's Millennium Falcon were mass produced.
Chairman of Canterbury City Council's community committee, Neil Baker, said: "It goes without saying that the force is strong at the Beaney this winter."
The exhibition will finish on 6 March 2016.