Joan Daws lift crush death in Herne Bay 'avoidable'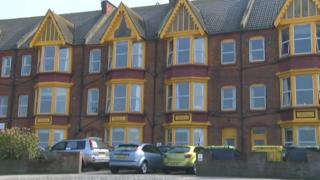 The death of a care home worker who was crushed in a lift could have been avoided if a safety sensor had been put in place, an inquest jury has found.
Joan Daws, 64, died in hospital five days after she was pinned to the elevator at The Laleham care home in Herne Bay, Kent in October 2013.
An inquest into her death heard she was moving a chair used to weigh patients when she became trapped.
Her son, Simon Daws, said: "She went to work one day and didn't come back."
He added: "My mum had worked hard all her life. She was 18 months away from being retired. She was just working to pay off her home."
'Highly unlikely'
The inquest at the Guildhall in Sandwich was told staff at the care home heard screams after Mrs Daws pulled the equipment into the lift and it started to move.
She was found pinned to the wall of the elevator and unable to breath by a Kent Fire and Rescue Service firefighter.
The mother-of-three died at the Queen Elizabeth the Queen Mother Hospital in Margate.
The inquest heard the lift had not been inspected at regular intervals and had been fitted with a safety sensor since her death.
The jury gave a narrative verdict, concluding that if that sensor had been in place it was "highly unlikely" that the incident would have occurred.
Nick Mayne, of Canterbury City Council, said there was an ongoing Health and Safety Executive investigation into the owners of the care home at the time.
The care home has changed ownership since the death.