Ex-Kent school principal Sean Heslop 'punished for falling in love'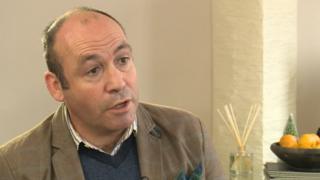 A former head teacher arrested over a relationship with an ex-pupil has said the police investigation was the most difficult ordeal of his life.
Sean Heslop, 47, was executive principal of Folkestone Academy and Marlowe Academy in Kent but resigned in April following his arrest.
Kent Police ended the investigation last month without any charges being made against Mr Heslop.
"I fell in love with a former student and I was punished for it," he said.
"Everything I did was legal and appropriate but I can't help my feelings."
Mr Heslop said he kept in touch with Folkestone Academy student Tasha Prior after she left school at 18, but their relationship did not begin until later when he was going through a difficult relationship at home.
The couple have since had a son and are living in Cambridgeshire. Mr Heslop said he did not want to return to education.
'Morally difficult'
Mr Heslop was arrested on suspicion of abusing his position of trust on 31 March.
He said the seven-month police investigation was terrible.
"This should not be allowed to happen to any figure in public life - be it education or otherwise," he said.
He said he understood people might find the relationship "unusual" or morally difficult because of the couple's ages.
"But I knew that what I was doing was not wrong. I knew that it wasn't illegal," he said.
Peter Saunders of National Association of People Abused in Childhood said the situation was unacceptable.
"It's a total boundary violation when something like this occurs," he said.
"If the letter of the law hasn't been broken, maybe it is time to look at the law as it stands at the moment."
Kent Police said it conducted a thorough investigation, working closely with the school before the decision was made to release Mr Heslop without charge.