Maidstone shops fire: Accused started blaze out of 'boredom'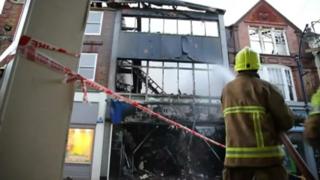 A man may have started a large blaze which caused an estimated £5m of damage to shops because of "boredom" or "sheer devilment" a court has heard.
The fire in June gutted The Works bookshop in Week Street, Maidstone, and damaged several other properties.
Jurors at Maidstone Crown Court were told on Wednesday Adam Stajer, 21, flicked cigarette ash on to rubbish and cardboard boxes outside the store.
The Slovakian national has pleaded not guilty to arson with intent.
Ryan Richter, prosecuting, told the jury Mr Stajer started the fire as he made his way home in the early hours of 8 June.
'Burnt very quickly'
He said bags of rubbish and cardboard boxes had been left outside the three-storey bookshop for bin men to dispose of in morning.
"For a reason completely unknown, for boredom, sheer devilment, a thrill, he decided to flick a light at those bags of rubbish for just a few seconds."
The trial heard the flames from the fire quickly spread to the store.
"You can pretty well imagine what is going to happen in a bookshop full of paper. It burnt very quickly," Mr Richter added.
Mr Stajer has admitted being in Week Street at the time of the fire but denies starting the blaze and the charge of arson with intent.
The trial continues.