Kent dementia woman defrauded by friend Margaret Rigby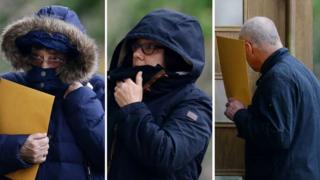 A pensioner who swindled a friend with dementia out of her savings to buy Take That tickets, cars and meals out has been given a suspended jail term.
Margaret Rigby, 80, had known Barbara Lewis for 40 years and was granted power of attorney over her bank account when Mrs Lewis's health failed.
Mrs Lewis was defrauded out of £57,000 from 2007 until her death in 2011.
Rigby, of Betteshanger, near Deal, Kent, was previously found guilty of fraud, Canterbury Crown Court heard.
She spent the cash on meals out, weekly shopping, credit card bills, gifts, Take That tickets, cars, a caravan, haircuts, a coffee machine, a chicken coop and spectacles and wrote cheques to herself, the court heard.
Mrs Lewis's son Nick had raised concerns over Rigby's power of attorney which enabled her to take control over proceeds of the sale of his mother's Midlands home, the court was told.
And Rigby, who had volunteered for the Samaritans and Victim Support, felt entitled to the money because of the help she gave to Mrs Lewis.
Sentencing, Recorder Deborah Charles said: "On the one hand you showed great kindness to your friend, on the other you seemed to think the time and energy that you were putting in somehow entitled you to some benefit."
She said had Rigby been younger she would have been sent to prison.
Rigby, of Burnt Barn Cottages, who was convicted of fraud by abuse of position, was given a two-year sentence suspended for 18 months.
Her daughter and son-in-law, of the same address, were convicted of acquiring criminal property.
Ex-NHS manager Jayne MacDonald, 56, was given an 18-month jail term suspended for a year.
Allan MacDonald, 60, an ex-policeman who also worked in the Coastguard service, was given a 12-month sentence suspended for a year.
After the hearing, Mr Lewis said his mother "would be turning in her grave" if she knew what had happened.
He also criticised the sentences handed down.
"Those three people abused my mum's trust, abused her vulnerability and abused the power given by the courts, and suspended sentences for them is very, very disappointing," he said.
"I think they are despicable and disgraceful, and I hope they hold their heads in shame. They abused my mum."