Kent Police sickness up for fourth year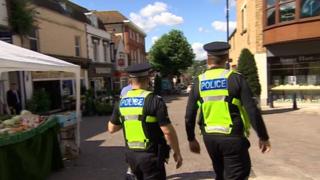 The number of police officers and staff on long-term sick leave in Kent has gone up for the fourth year in a row.
New figures obtained by the BBC show nearly 600 were off sick for more than 28 days in 2014-15 - nearly 200 more than five years ago.
The Police Federation said the "continuous increase" corresponded with the loss of 500 police officers and 700 civilian staff.
The force said it gave physiotherapy and counselling to those in difficulty.
Psychological problems
Government funding cuts since 2010 have led to the reduction in police and staff numbers within Kent Police.
Nearly 40% of those off sick last year had psychological problems, about which Kent Police Federation said it was particularly concerned.
Federation chairman Ian Pointon said one reason was overwork.
"You've got 1,200 fewer people who are doing the same work," he said.
"That means people are doing more and more and that brings its own pressure."
---
Kent Police staff sickness
2014-15 - 592 (381 officers and 211 staff)
2013-14 - 522 (308 officers and 214 staff)
2012-13 - 483 (284 officers 199 staff)
2011-12 - 441 (257 officers 184 staff)
2010-11 - 393 (198 officers 195 staff)
---
Mr Pointon welcomed Wednesday's announcement by Chancellor George Osborne that there would be no further police cuts before 2020.
"I don't think anybody could have anticipated that police budgets would be protected in real terms," he said.
"But we will study the small print very carefully."
Kent Police spokesman Mark Gil-Martin said cuts in staff and officer numbers were one possible explanation for the increase in sick leave.
"Policing has always been a difficult and challenging job and it ought not to come as a huge surprise that there are absences and some of those are protracted," he said.
"It is one of the hazards of the occupation and one that we try and ameliorate as much as possible.
"Our projections for the current year to the end of March 2016 are that we will see a quite a substantial downturn."