Duck decoy pond gets listed status in Kent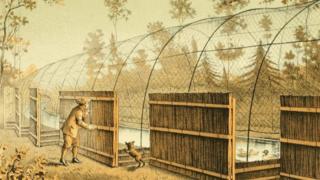 A 17th Century duck decoy pond in Kent has been given protected status as one of Historic England's more unusual listings.
Duck decoy ponds were were popular across England in the 18th and 19th centuries.
They consisted of ponds with channels leading away from them that were used to catch wildfowl in netting.
Three other sites on the Hoo Peninsula have also been listed - a WW2 oil depot bombing decoy and two boundary stones.
'Beyond Dickens'
The four sites were uncovered by experts from Historic England which has produced a book on the area, and listed status was granted by the Department for Culture, Media and Sport.
The Hoo Peninsula is best known for providing the harsh, dramatic landscape that inspired Charles Dickens to write Great Expectations.
Despite this, senior investigator Sarah Newsome said the heritage of the area remained little-known despite being 30 miles from London.
"Hoo has a complex history that goes beyond the familiar Dickensian idea of a low-lying land of misty marshes," she said.
The duck decoy pond at Halstow Marshes was found to be well-preserved and is still partly filled with water.
According to Historic England, only four such ponds are known to have existed in Kent.
The World War Two bombing decoy site at Allhallows was built by Winston Churchill's Petroleum Board in 1941 to draw enemy attack away from real fuel storage facilities.
Experts said that during 1941 to 1942 there were nearly 840 decoy sites in operation, ranging from dummy airfields and oil installations to decoy towns on fire.
Two boundary stones at Yantlet Creek and Upnor have also been listed.
They marked the boundaries of the City of London's jurisdiction over the Thames and the River Medway.
Historic England said the Thames was vital to the City's economic health and from the 12th Century to the mid-19th Century, the City held jurisdiction over parts of both rivers.