Medway Maritime 'has no beds' to cope with winter pressures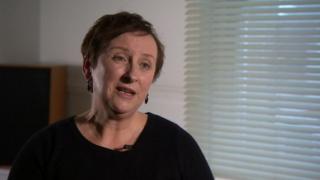 A failing Kent hospital will not have any spare beds to cope with any added winter pressure, its chief executive has warned.
Lesley Dwyer of Medway Maritime Hospital said 120 - about 20% - of its beds were currently taken up by patients waiting to be discharged.
"Our winter plans cannot be based on opening more beds. There is no room."
Ms Dwyer said the hospital was working to find beds in care homes in Sittingbourne or the Isle of Sheppey.
"These are people waiting for packages of care or waiting to be assessed on the safety of their house," she said.
Ms Dwyer was appointed in May to deliver a recovery plan after Medway NHS Foundation Trust was put into special measures in July 2013 because of strong concerns about standards of care.
In September, ambulances were diverted away from Medway Maritime after its A&E department was found to be unable to cope.
Ms Dwyer said she hoped the trust would be out of special measures in about six months' time but did not expect a new Care Quality Commission report due in December to recommend it.