Couple escape after car crashes into Ashford house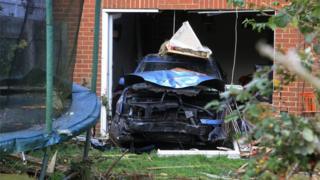 A pregnant mother and her boyfriend have spoken of their lucky escape after a car ploughed into their living room.
The vehicle just missed Davey Bailey, 22, who was sitting at a desk by a window in the house in Ashford, Kent.
Katie Ashton, 23, who is seven months pregnant, was upstairs when she heard "a big bang" and the curtains "blew out of the window" on Wednesday night.
Her four-year-old daughter was staying at her father's when the car crashed into their home in Manorfield.
Ms Ashton said: "If it was 20 minutes before, I'd have been sat on that sofa... and I probably wouldn't be here today.
"My partner was on his computer right by the window, and the car missed him by inches.
"He's very lucky. He has a grazed knee but that's it."
Mr Bailey said: "Lucky doesn't come close to how I'm feeling.
"All I remember is hearing a car being revved to the max and then there was a car sitting in my living room."
He added: "We've got a baby due in February and we've got nowhere to live now."
The car is believed to have careered off Knoll Lane at about 21:30 GMT before crashing through the garden and into the back of the house.
The couple have moved out of their privately-rented home to stay with family, and have been told they may not be able to return for three months.
Four people were seen running away from the crashed car.
Kent Police said an 18-year-old man was later arrested on suspicion of failing to stop after an accident, and bailed.