Work begins on 'largest council bungalow site in UK'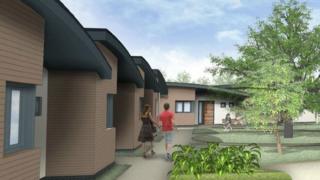 More than 30 "affordable rented homes" are being built as part of a £8.5m housing scheme in Kent.
Medway Council said the one and two bedroom bungalows on the former Gillingham Community College site would be available from next summer.
The development will be named Centenary Gardens to commemorate the centenary of World War One.
Councillor Howard Doe said it would be the largest council-built bungalow development in the United Kingdom.
They will be suitable for older tenants, especially those who are less mobile.