Special measures Barming Primary cancels Christmas plays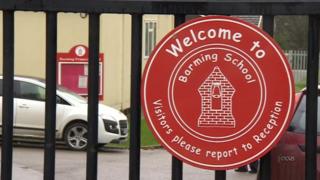 Parents at a Kent primary school want its Christmas plays reinstated after the head teacher cancelled them to concentrate on lessons.
Andrew Gould was brought in to Barming Primary School, Maidstone, after it was put into special measures.
He said he cancelled the Christmas performances because taking children out of classes would not allow the school to make necessary improvements.
More than 500 people have signed a petition protesting at the decision.
The school was put into special measures earlier this year after being rated inadequate by Ofsted in four out of five categories.
Parent Leona Hobbs said: "Schooling isn't just about being stuck behind a desk learning from a book - it's about life experiences and enjoying life as well."
Mr Gould said he cancelled Christmas performances by every year group apart from Reception, but other Christmas activities would take place during the final week of term.
He said in a statement: "Apart from the online petition, which we believe has been signed by many people with little or no connection to the school, we have had a small number of complaints from parents, but a similar number of messages of support from others who appreciate what we are trying to achieve here.
"I am fully in favour of extra-curricular activities enhancing learning but also fully in favour of developing a curriculum and an ethos in lessons that builds confidence, enables team work, independence and creativity."