Thanet council set to reject Manston Airport purchase plans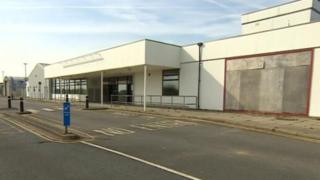 A council is to consider a report which recommends no further action should be taken on the compulsory purchase of Manston Airport.
It will be discussed at a cabinet meeting on Thursday on the basis that US firm RiverOak does not fulfil the requirements as a partner in the deal.
It follows legal advice from lawyers representing Thanet District Council.
RiverOak, which had been seeking to purchase and reopen Manston Airport, has not commented.
The news has been welcomed by the owners of the site - renamed Stone Hill Park after its closure in May 2014 - who said the proposal of a compulsory purchase order had created "great uncertainty" and had had a "detrimental effect" upon the area as a whole.
Spokesman Ray Mallon said its plans for the development, which will include an advanced manufacturing park, 2,500 houses, and sporting facilities, would be "creative and spectacular".
Earlier this month, the UK Independence Party lost overall control of Thanet District Council after a fifth councillor, unhappy with its lack of action over Manston Airport, defected.
RiverOak had also accused council leader Chris Wells of "throwing one road block after another in front of us in order for you to carry out whatever your real agenda might be".