Folkestone museum plan gets £1.95m lottery grant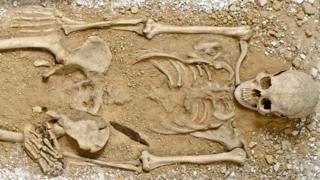 A new museum is to be built in Folkestone after the town council secured a £1.95m Heritage Lottery Fund (HLF) grant.
The free-to-enter museum will be constructed inside the town hall to house the authority's art collection and historical artefacts.
The star attraction will be a 1,500-year-old Anglo-Saxon skeleton unearthed locally in 1906.
Work on the museum is due to start in spring 2016.
The museum will also display finds from the Roman villa in East Cliff, Anglo Saxon jewellery and a number of fossils.
Town clerk Jennifer Childs said: "Without the funding we are certain that the Folkestone collections would have remained dispersed and lost to the town forever.
"The new museum will be a space of inspiration, displaying the town's heritage and art collections for all to enjoy whilst ensuring the artefacts are properly conserved and cared for in perpetuity,"
As part of the council's, plans two of the windows at the front of the town hall will display an art installation and a replica of an Ichthyosaur skeleton.
Town mayor Councillor Emily Arnold added: "The construction works will begin in the spring 2016, but there is still much to do before this can take place.
"We will be working with the design team and conservation experts to ensure the new museum is a place that adults and children alike can enjoy through interactive exhibits with collections that are ready for display."
The authority hopes to open the museum towards the end of 2017.