Bronze Age log boat remains found at Faversham boatyard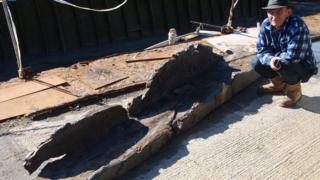 A rare wooden boat dating to the Bronze Age has been discovered in Kent.
The log boat was unearthed at a boatyard in Hollow Shore, Faversham, on Sunday but was returned to the water to prevent it from drying out.
Local archaeologists say the craft is in exceptional condition.
Dr Paul Wilkinson, director of Swat Archaeology, was called by the boatyard owners to reports that an Anglo Saxon boat had been unearthed. But he said it was in fact a Bronze Age vessel.
He said such log boats were as "rare as hens' teeth" and very important.
The remains were found in clay and only half of the craft was lifted, he added.
He said the site still needed to be investigated to find the remaining part of the boat.
---
Bronze Age Britain
The beginning of the Bronze Age in Britain can be put at about 2,000 BC.
It is the crucial period that linked the Stone Age with the Iron Age.
During that time newcomers came to Britain from continental Europe where the Bronze Age was under way.
They brought new ideas and also bronze tools and weapons.
True bronze is a combination of 10% tin and 90% copper. Both materials were readily available in Britain at this time.
Source: BBC History
---