MyFerryLink Calais jobs deal struck 'to end port dispute'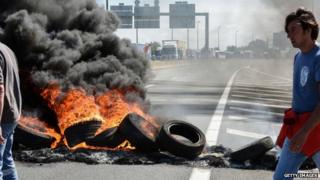 A deal has been struck between the French government and ferry workers that it is hoped will end disruption of services between Calais and Dover.
Striking MyFerryLink workers have occupied two ferries since July and set fire to tyres, blocking the Channel Tunnel, in protests over job losses.
It followed the announcement in June by Eurotunnel that it was selling its two MyFerryLink ferries to DFDS Seaways.
Under the deal, 402 French workers will be employed by Eurotunnel and DFDS.
But more than 70 jobs on the UK side of the Channel have been lost permanently.
Charlie Elphicke, Conservative MP for Dover and Deal, said about half the British workers affected had found other jobs but between 30 and 40 had not.
"I talked to DFDS this morning and asked them to provide a future for the British workers," he said.
Security staff
DFDS will employ 202 ferry workers, while Eurotunnel will employ 200 - a quarter of them as security staff.
Carsten Jensen, from DFDS Seaways, said: "I'm confident going forward with this agreement that the growth and thereby also the creation of jobs is going to continue."
The UK government agreed in July to provide an extra £7m ($10.9m) towards security at the Channel Tunnel railhead in Calais after migrant activity also disrupted services.
Eurotunnel spokesman John Keefe said the ferry workers would need the right skills and be prepared to move into land-based jobs.
French transport minister Alain Vidalies said in a statement: "For the 487 employees concerned, the agreement provides for the creation of 402 jobs by Eurotunnel and DFDS, and the payment of a settlement compensation for employees unemployed at 1 January 2016."
The two ferries - the Rodin and the Berlioz - would be returned to DFDS on Wednesday morning, he added.
During action over the weekend by former workers of the dissolved ferry company, cross-Channel passengers faced delays when protesters used lifeboats to stop ferries entering or leaving the Port of Calais.
---
Why were MyFerryLink workers protesting?
Eurotunnel bought three ships from SeaFrance for £51m when it went out of business in 2012 and leased them to MyFerryLink
In June 2014, Eurotunnel was banned from operating MyFerryLink after the Competition Commission concluded it controlled too much of the cross-Channel passenger trade
In June 2015, Eurotunnel announced it was selling its two MyFerryLink ferries to Danish cross-Channel competitor DFDS Seaways
That month workers from MyFerryLink began striking, and blockaded the port of Calais over the sale and possible job cuts
MyFerryLink cross-Channel services ceased on 1 July
---