Channel Tunnel: Migrants hurt in French terminal break-in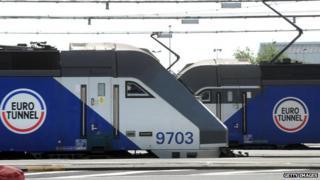 Three migrants have been injured after a "large number" broke into the French Channel Tunnel terminal, its operator has said.
Two were discovered on a train bound for the UK, while the other was found near the tracks at about 02:00 BST.
Services were disrupted after the tunnel was closed for around 90 minutes, a Eurotunnel spokesman said.
On 7 July, a migrant died after apparently jumping on to a freight train heading for the UK.
Eurotunnel freight and passenger services have since resumed and the firm said it was working to clear the passenger backlog.
Eurostar services have not been affected, the BBC's Simon Jones tweeted.
Eurotunnel has printed 5,000 leaflets warning migrants of the dangers of using the Channel Tunnel to cross into the UK.
The leaflets, printed in nine languages and distributed at the migrant camps in France warn of the "danger of death", John Keefe from Eurotunnel said.
'Spiralling out of control'
Theresa May, the Home Secretary, has told the House of Commons a "secure zone" will be set up for UK-bound lorries at Calais after 8,000 attempts were made by illegal migrants to cross the channel.
The area will be able to accommodate 230 vehicles - the equivalent of a two-and-a-half mile queue - the Home Secretary said.
About 3,000 migrants have set up camp near the Port of Calais.
Earlier this month, lorry drivers were stuck for days in miles of queues on the M20 in Kent after French ferry workers went on strike.
Transport bosses, Kent Police chief Alan Pughsley and immigration minister James Brokenshire will appear before a Home Affairs Committee later to face questions about the situation at the French port.
Committee chairman Keith Vaz MP said: "We in no way underestimate the scale of the task at hand in Calais, but we are concerned that there is a sense that the situation there is spiralling out of control."