Canterbury student house party ends in stabbings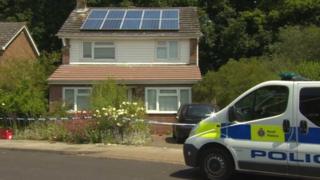 A student end-of-year party that spread on social media ended up with three people being stabbed in Kent.
Police said two men, 18 and 19, were found injured inside the Canterbury house. A third, 21, was found nearby.
Officers have said the party in Salisbury Road was well-attended and have appealed for witnesses.
Six first-year students had shared the house and two organised the party - two of their housemates said everyone who turned up seemed to be from London.
Alex Mackie, who had an exam on Thursday and had tried to sleep through the party, said: "I heard a sudden screaming and shouting. I think loads of people ran into the house, and then there were a lot of people screaming.
"Lots of people then left, and then about 20 minutes later, there were police vans and paramedics."
Conall Deeney said: "I thought it was going to be an end-of-exams party.
"We were just assuming students would turn up, but then obviously not. I probably knew two people at that party and the people we live with."
Kent Police said officers were called to the house at about 01:15 BST on Thursday following reports of the attacks.
Ch Insp Emma Banks said one of the men remained in a critical condition.