Rescuer of woman killed on train tracks in Kent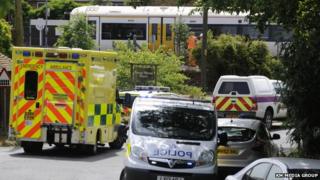 A pensioner has been killed while trying to rescue a woman who was on train tracks in Kent.
David Ashworth, 74, from Canterbury, was hit by the train as he saved the 38-year-old woman near Chartham railway station on Tuesday.
She was also struck by the train, but was treated as the scene and taken to hospital where she is said to be in a serious but stable condition.
The family of Mr Ashworth, who was a retired academic, praised his actions.
In a statement they said: "We are very proud of our father's actions in saving the life of a young lady and clearly devastated at the loss of his life in doing so.
"Our thoughts are with the young lady, her family, and the train driver and we would like to add that we request privacy at this difficult time."
A spokeswoman for British Transport Police said officers were called at 10:55 BST.
She appealed for witnesses to get in touch.