Eurotunnel to sell Dover-Calais passenger ferries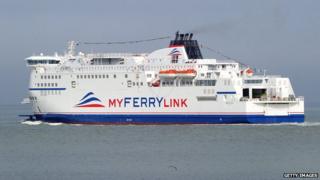 Eurotunnel has announced its MyFerryLink cross-Channel ferries will be sold to Danish competitor DFDS following a competition ruling.
Eurotunnel bought SeaFrance's ferry business for £51m when that firm went out of business in 2012.
Regulators said it gave Eurotunnel almost half the cross-Channel passenger trade, with ferry and tunnel traffic.
A tribunal ruled Eurotunnel should stop its MyFerryLink service because it was too dominant in cross-channel traffic.
MyFerryLink operates two ferries, with up to 16 daily sailings on the Dover-Calais route. It also has a former SeaFrance freight ship.
A Eurotunnel spokesman said: "The Eurotunnel group has decided to sell its maritime activity, MyFerryLink, as the conditions necessary to develop freely did not exist."
The group said "it holds a binding offer from DFDS for a let to buy sale of the ferries, Rodin and Berlioz".
Eurotunnel has asked for a competition ruling to be lifted in relation to its freight ship, Nord Pas-de-Calais, so it can continue operating.