Dover councillor Bob Frost suspended over Big Issue tweet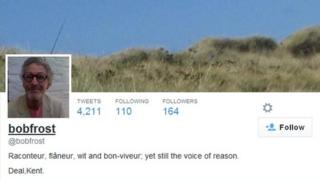 A Conservative councillor has been suspended over an "offensive" four-letter Twitter outburst about a Romanian Big Issue seller.
Bob Frost, who represents the North Deal ward on Dover District Council, posted a tweet describing an encounter with the man on Sunday.
In it, he wrote he had told him to "f**k off back to Romania".
Opposition Labour councillors said the message was offensive, but Mr Frost said he was surprised by the response.
The full message, posted from his personal account, read: "Being ex Home Office I feel qualified to offer helpful free immigration advice. Just told local Big Issue seller to f**k off back to Romania."
Other Twitter users condemned the message, which was also reported to the council and local Conservative MP, Charlie Elphicke.
Labour group leader Mike Eddy said the tweet was "disgraceful" and showed Mr Frost was "unfit to represent the town".
"It's offensive, childish and possibly a crime as an incitement to racial hatred," he said.
"It's time for Bob to stand down, unless the local Tory leader thinks this kind of behaviour is acceptable."
Councillor Paul Watkins, the Conservative leader of Dover District Council, said the tweets were "embarrassing" and needed to be investigated.
"I've suspended him on the basis there is public concern and we've had complaints," he said.
In a statement, Mr Frost said: "I am somewhat surprised that the usual suspects, having been so supportive of the principle that Charlie Hebdo can make jokes about the Prophet Mohammed, find quips about EU benefit tourism somehow beyond the pale.
"This is no more likely to incite racial hatred than jokes about Polish plumbers or the German predisposition for reserving sun loungers.
"Labour Party members really should get a life (as well as some electable policies)."
He added that the local elections had seen him increase his share of votes by 18%.
In August 2011, Mr Frost was suspended from the Conservative group after using the phrase "jungle bunnies" in reference to the London riots.