First plans of Manston Airport site revealed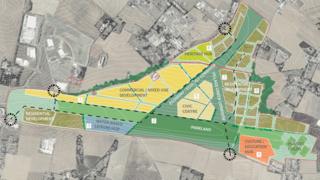 The owners of the former Manston Airport site have released the first images of what they want it to look like in future.
Two concepts for the area have been revealed, each with residential areas, commercial space and parkland.
The designs have been drawn up based on the redevelopment of European airports like Flugfeld Boblingen in Stuttgart and Tempelhof Airport, in Berlin.
The airport closed in May 2014 with the loss of 150 jobs.
The government said it would review the decision by Thanet District Council not to issue a compulsory purchase order.
Chris Musgrave, who owns a majority stake in the former airport site, said good progress was being made in devising plans for the site.
He said: "Much work is going on behind the scenes on making sure the various elements are balanced just right.
"There is still work to be done before we have a completed blue-print but we are on track to complete this initial preparatory work and reveal our outline plans by June this year."